Brace yourself for a life-changing moment, with this Neck Hammock for Pain Treatments! Created and designed by a physical therapist for treating neck pain and correcting posture. It is a recommended tool by most doctors, especially by Dr. Michael Pound, a renowned chiropractor in California.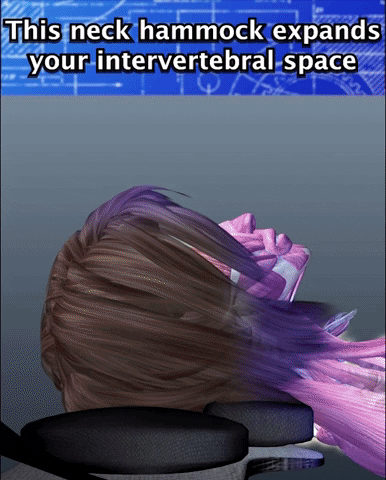 Do you suffer pain or discomfort in your neck and upper back? Do you often feel like you need a massage to relieve and decompress that area? Is it difficult for you to afford the time and money to visit a massage therapist? Almost everyone at some point has suffered pain in their neck and back. This is a very common problem among both the young and adult populations and it's only getting worse. All of the symptoms that come with tension in your neck affect your day. Fatigue, headaches, body aches, bad mood and low performance can all be attributed to strain in your neck and upper back. For these reasons, we must take extra care of these areas.

So, where does this tension come from? Cervical pain is related to stress, poor posture in front of electronic devices and carrying an excessive amount of weight. In the case of women, it can even happen because of a bad choice in bra. The medical experts agree that the main problem is our posture. But this has a simple solution, with which you'll succeed in relieving pain and relaxing the cervical area.
Neck pain is a common problem with few solutions. But thanks to The Neck Hammock, that's about to change. The Neck Hammock brings the miracle of cervical traction to your home in the form of a simple, portable device you can use every day.
Finally! Neck Pain Relief In 10 Minutes Or Less!

The definitive and most economical technique to relieve your neck pains.
The solution anytime, anywhere.
It helps relieve stress and tension while eliminating sleep and muscle problems.
Economical and accessible to all publics. Effective and very simple to use.
Key features
It relaxes your cervical spine, so it relieves pain and allows you to tackle your daily routine with more energy and strength. Treat your text neck! Release the tension generated in this area due to, for example, spending many hours working in front of the computer or looking down for long periods at a cell phone.





Neck Relax relieves muscle tension, allowing the muscle to release knots in the affected area. Get back your enjoyment of physical exercise without complications, pain or discomfort. Recover from sports injuries faster.





It combats everyday stress, thus improving your mood as well as your ability to focus. Enjoy the pleasant feeling of relaxation as the stress melts away. Perfect for improving your daily rest and your performance at work.





Neck Relax has an electronic pulse massager function with different settings. Find the right message sequence and strength for your body. Use the two additional massage pads to target pain and soreness in specific areas, such as the shoulder blades, lower back, arms, and legs.




How does it work?
Using the medical principle of traction, NeckRelax elevates the head off the ground, therefore relieving weight and pressure on the neck.
By gradually stretching the muscles in the neck, NeckRelax increases the blood flow and circulation around the vertebrae by gently expanding the space between them. This allows for the muscles to receive more oxygen, aiding recovery, increasing mobility and reducing pain.
This is an effective way of relieving neck pain in general, but can also help patients who are suffering from trapped or pinched nerves and herniated or bulging discs.
This simple gadget can be used at home, in the office or outdoors. NeckRelax has been engineered carefully so that it can be used in a variety of different places, as long as there is a sturdy hook, rail or door handle to fix the device to.
How To Use It
Choose how you would like to secure the NeckRelax device. Either jam the buckle into a closed door, or place the loop around a door handle, rail or hook.
Ensure that the device is secure pull giving it a few sharp tugs.
Lie down on the floor, you can use a mat or a carpet to make yourself more comfortable if you wish.
Place your head in hammock and relax. You may choose to play some music or use an eye mask to aid your relaxation.
How can you buy it in ?
You can place your order online through the official website in to be sent to your home.

Only during the launch period, the company is offering an exclusive promotion for this product through this link. And if that were not enough, they also offer a discount for bulk purchases.
Package Included:
1 x Neck Hammock, 2 x Sling, 1 x Lanyard, 1 x Cloth Bag